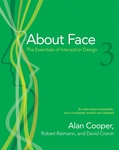 Alan Cooper, Robert Reimann och David Cronin
ISBN: 9780470084113
Taggad efter konferensen "From business to buttons" strax innan semestern, så beställde jag boken "About Face 3: The Essentials of Interaction Design" från Adlibris. Om jag förstått det rätt så är väl boken nästan en klassiker. Den har uppdaterats och finns nu alltså som en "version 3". Om det är någon/några som kan interaktionsdesign så är det dessa grabbar från Cooper. Alan Cooper är grundaren till företaget, mannen bakom Personas och beskrivs som "the father of Visual Basic".
This completely updated volume presents the effective and practical tools you need to design great desktop applications, Web 2.0 sites and mobile devices. This book will teach you the principles of good product behavior and introduce you to Cooper's Goal-Directed Design, from conducting user research to defining your product's interaction using personas and scenarios. In short, About Face 3 will show you how to design the best possible digital products and services.
Boken kom med posten häromdagen och blir, med sina drygt 600 sidor, ett litet avbrott från Stieg Larssons böcker som jag plöjt igenom i sommar (som jag förresten tyckte var otroligt bra). Kanske återkommer med en recension när jag är klar.